Chocolate Protein Muffins
By Nichole Krueger | March 18, 2021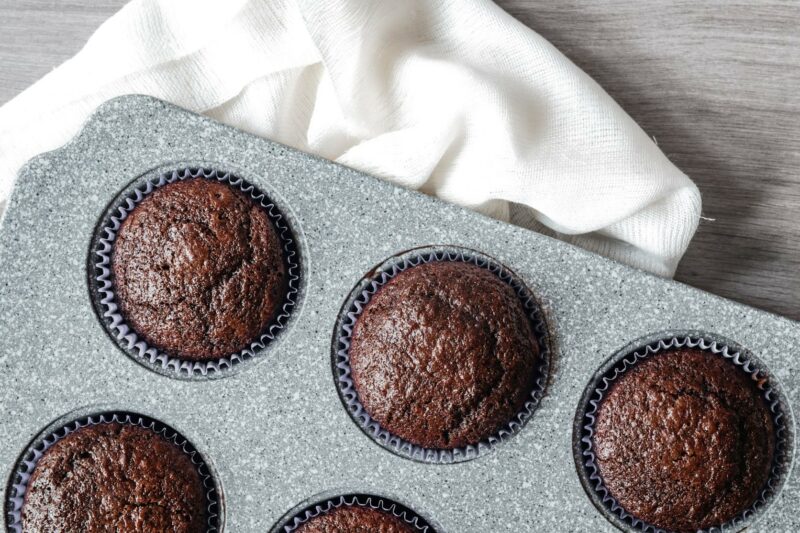 Are you ready for a recipe?? I LOVE these muffins. They are moist, filling, nutritious, delicious. But mostly I love them because my kids gobble them up like they're cupcakes and they are nutrient DENSE.
I promise that you will not taste the black beans, and you won't miss the flour or the processed sugar.
Speaking of sugar…the recipe calls for 1/4 cup of maple syrup + 1/4 cup xylitol, but you can sweeten them with whatever sweetener you choose as long as it's equivalent to around 1/2 cup of sugar (or less if you want!) I've used coconut sugar, maple syrup, monk fruit, xylitol, maple syrup + some stevia drops… it's really up to you.
The reason I do 1/4 cup of maple syrup is because it adds flavor and cuts the "taste" of the stevia or xylitol. And if you calculate it out over 12 muffins, each muffin has 4 grams of sugar. I can handle that!
For my chicken egg-sensitive kids, I make them with duck eggs. Duck eggs are quite a bit larger than chicken eggs, and when you're using 6 of them, it increases the liquid significantly, but these muffins are very forgiving and they still cook up beautifully.
And for the protein powder – there are a LOT of options on the market, and many of them are not going to move the needle of your health in good direction. I always try to choose one with the most nutritional benefit, not the one with the most protein. My favorites are Ancient Nutrition Bone Broth Protein (I like the Vanilla or Salted Carmel!) or Be Well By Kelly Grass Fed Beef Protein Powder (don't freak out – it's beef bones, like bone broth, not the meat!) You could even use collagen powder, or a mixture of the two.
And finally, if you prefer to use a blender, that will work equally as well! I just hate dealing with my regular blender, so I always use my immersion.
We eat these for breakfast on the go with nut or seed butter on them. I send them for school snacks, or they eat them as an after school snack to tide them over until dinner.
Now get out there and make some muffins! (and let me know what you think!)
Interested in more recipes? Follow me on social Instagram or check out my Gluten-Free Dairy-Free Recipe guide.